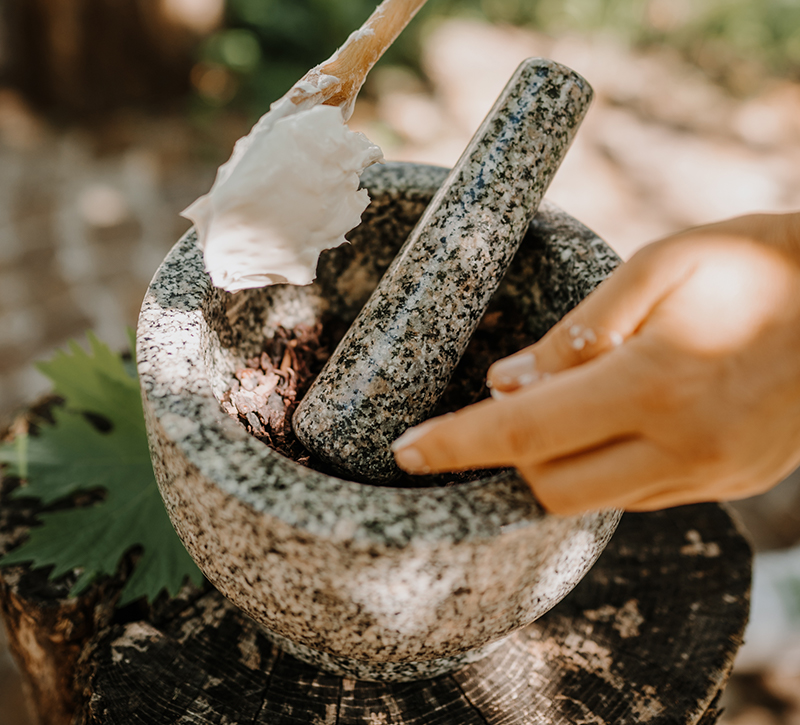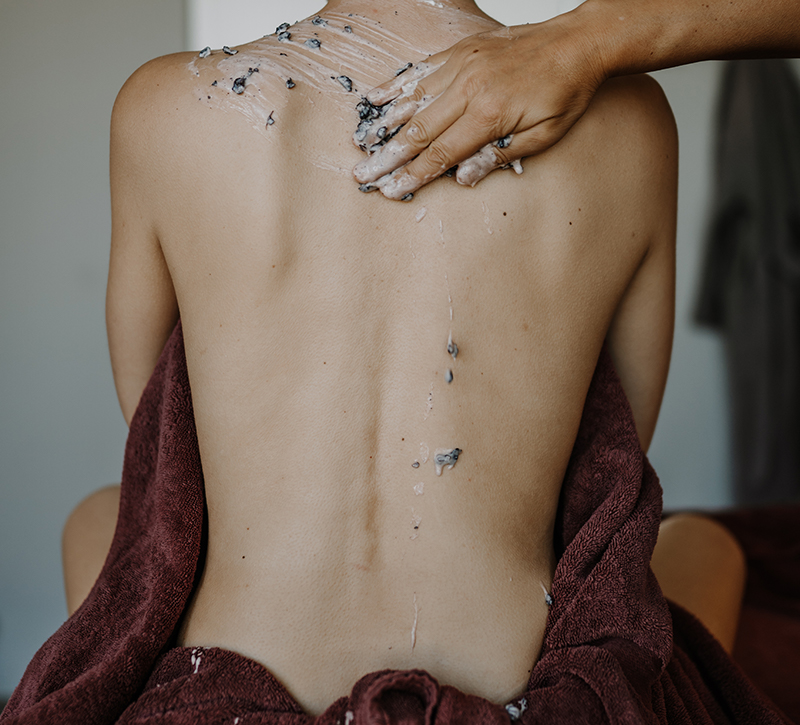 Facial treatment for men and women
This soothing treatment utilises the powerful properties of grapeseed extract to protect and smooth the skin. A gentle enzyme exfoliation removes dead skin cells, after which a mask, tailored to suit your skin, refreshes and revitalises. The full treatment comprises cleansing, toning, exfoliation, serum, massage, mask and finishing care with eye cream and hand massage.
Duration: 50 minutes
Price: 71 euros
'Black Madonna' body pack and foot massage
The body pack made from grapeseed oil, our own grape marc and Pinot Noir grapes is prepared in the spa with a mortar and pestle. This luxuriant body pack cleanses your skin, stimulates cell renewal and creates a tingling sensation. The very high concentration of anti-ageing ingredients in red grapes nourishes the skin with vital fatty acids. The result – a youthful glow and a firmer complexion.
Duration: 45 minutes
Price: 50 euros
Partial body massage with full-body exfoliation
This soothing body massage, carried out using grapeseed oil, deeply penetrates and nourishes the skin with essential fatty acids. The follow-on exfoliation treatment with salt, grapeseed oil and 'Black Madonna' Pinot Noir grape seeds, removes dead skin cells and leaves the skin smooth and cleansed.
Duration: 50 minutes
Price: 69 euros
Body exfoliation and facial massag
This purifying exfoliation with Pinot Noir grape seeds, salt and top-quality grapeseed oil nourishes the skin, leaving it soft and smooth. Thanks to the cleansed skin surface, the unsaturated fatty acids of the cold-pressed grapeseed oil can penetrate deep into the skin. In addition, a soothing facial massage stimulates the circulation of the skin.
Duration: 45 minutes
Price: 55 euros
Kneipp therapy for the feet
Treading water – one form of 'Kneipp' therapy – in our wooden barrels stimulates the circulation and improves blood flow. This is an ideal treatment for tired legs after a long cycle trip or mountain hike. The subsequent leg and foot massage using grapeseed oil relaxes the muscles and moisturises the skin. Afterwards, the therapist applies a revitalising grapeseed gel that strengthens the capillaries and connective tissue. This treatment can also be booked for two.
Duration: 25 minutes for one, 50 minutes for two
Price: 27 euros for one, 54 euros for two
Treat for the feet
Soothing foot treatment with barrique wine bath compresses followed by a pedicure, with nail polish on request. Culmination of this treatment is a relaxing calf and foot massage carried out using a rich foot cream that, once again, harnesses the power of grapes, leaving your skin moisturised, supple and as smooth as velvet.
Duration: 40 minutes
Price: 39 euros
Nail polish on request: 7 euros
Full-body massage
A wonderfully relaxing full-body massage carried out using highest-quality grapeseed oil. Extracts from the grape skin and seeds intensively nourish the skin. The entire treatment can be tailored to suit your personal needs and preferences.
Duration: 50 minutes
Price: 69 euros
Balancing massage with grape seed-filled sachets
This anti-stress treatment with warming and cooling aromatic oils and grape seed-filled sachets has a deeply relaxing effect. You can take the grapeseed sachets with you after the treatment.
Duration: 50 minutes
Price: 80 euros
Straightening of the Spine using the Maximilian Huber method
This intensive treatment regenerates muscles and joints. Firstly, the therapist analyses the overall body static, posture and leg lengths inequality. Subsequently, a targeted massage and gentle joint mobilisation result in a restructuring of the spine. This treatment is effective for acute back pain, dizziness, headaches, tension and sleeping problems. Afterwards, the body requires a lot of rest and only gentle exercise. We recommend booking an additional full-body massage two or three days after this treatment to loosen the muscles and boost your sense of well-being.
Duration: 50 minutes
Price: 80 euros